06 Jul

Have Your Office Party at Hillside Bowl: Insights from a Maywood Area Bowling Alley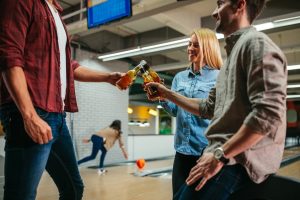 Hoping to build up the morale of your work team? Want to get everyone out of the workplace for a bit of fun? If you're looking to organize an office party in the Maywood, Illinois area, you should plan it at Hillside Bowl.
Our bowling alley in Maywood area is perfectly equipped to host work parties and company outings of all kinds. With a variety of activities for guests of all ages to partake in, we're ready to show your company a good time. Read below to learn what our Maywood area bowling alley has to offer.
Capable of Accommodating Groups of All Sizes
Here at Hillside Bowl, we have room for hundreds of guests at once. As such, whether you're putting together a small office party in Maywood, or you want to get the entire organization together at once, we can accommodate you.
A Festive Atmosphere
We go to great lengths to ensure that our Maywood area bowling alley maintains a festive atmosphere. Utilizing a state-of-the-art light system and a top-notch sound system, we strive to provide an environment that's filled with fun and excitement. Whether you're looking to sing, dance, or just hang out and have a good time, we can accommodate you and your employees/co-workers for a full night of fun.
Take Part in a Variety of Fun Activities
Here at Hillside Bowl, our facility is designed to provide hours of entertainment. We offer several fun activities for office parties near Maywood. These include the following:
Bowling
If you're going to a bowling alley in Maywood, you can rest assured that bowling will be one of the featured activities. We have 36 bowling lanes for you to enjoy, all of which are set up with automatic scoring computers and bumper capabilities (must be 8 years or younger to use bumpers). Whether your group is filled with seasoned bowlers or beginners, you're sure to have a great time.
Billiards
We know that bowling isn't for everyone. That's why we have pool tables located in our pool room. You and your employees/co-workers can indulge in both competitive and recreational games for as long as you'd like.
Hang Out in Our Lounge
Looking for something a little more informal? If so, you and your co-workers and/or employees can hang out in our lounge. It has a lot to offer, including the following.
Have a Drink
Our lounge bar is fully stocked with both beer and liquor. If you and your coworkers want to enjoy some beverages, you can do so at Hillside Bowl.
Grab Some Food
Not only does our lounge serve alcoholic beverages, but food as well. You can order something delicious from Uncle Remus, our in-house restaurant. Serving everything from appetizers to entrees to desserts, it's sure to have something that your group enjoys.
Watch TV
Our lounge contains an array of HDTVs. Depending on the day, these televisions show everything from sporting events to TV shows to movies and more. You can gather around with your employees/co-workers and get some good discussion going.
Ready to Plan Your Office Party in the Maywood, Illinois Area? Contact Hillside Bowl Today
If you're looking to plan an office party in Maywood, Illinois, there's no better place to do it than at Hillside Bowl. As the premier Maywood area bowling alley, your group is sure to have a blast here.
We are located at 4545 Harrison Road, Hillside, Illinois 60162. Our hours are 9 AM to Midnight on Sundays through Thursdays, and 9 AM to 1 AM on Fridays and Saturdays.
Want to officially get it down in writing? Contact us today to get started.