06 Jan

Have a Cicero Office Party at Hillside Bowl in Hillside, Illinois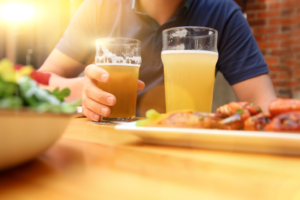 Is the office getting a little restless? Looking to treat your Cicero employees to a good time? If so, you should consider stopping by Hillside Bowl in Hillside, Illinois.
Our facility offers a range of fun activities, and it's sure to bring enjoyment to everyone in your group. Wondering what we have to offer? We're going to discuss the specifics below.
Spend Some Time in Our Lounge
Looking to kick back and have some laid-back conversation? If so, you and your co-workers and/or employees should consider spending some time in our lounge. With a variety of food options, an array of TVs, and affordable drink specials, we have everything you'll need to have a great time.
Enjoy Some Food
Hoping to enjoy a meal together? Maybe you just want a quick snack to hold you over? If so, our in-lounge restaurant, Uncle Remus, can accommodate you. Serving everything from chicken wings, to bread rolls, to french fries, and more, it has a little something for everyone.
Take Advantage of Our Drink Specials
Looking to let some steam off? If so, you should take advantage of our daily drink specials. We offer specials each and every day of the week, providing solid deals on craft beer, imported beer, domestic beer, liquor drinks, and more. Whatever you're looking for, our lounge bar is the place to be.
Take in Some Television
Perhaps your co-workers are hoping to watch a sporting event? Maybe you're looking to watch a television show? If so, our lounge can accommodate you. Sporting an array of HDTVs, we show all types of television programming throughout the day. Regardless of what you're looking to watch, we'll have you covered.
Engage in a Fun Activity
Looking for something a little more stimulating than food, TV, and conversation? Hillside Bowl has you covered. We offer a variety of fun activities for you and your coworkers to participate in. At our facility, you can:
Bowl a Few Rounds
Looking to bowl a few frames with your coworkers? If so, we'll have you covered. Our lanes are equipped with bumpers and automatic scoring computers, accommodating both recreational and competitive bowlers. Whether you've never bowled before or you're an avid bowler, you're sure to have a great time.
Interested? Call ahead to reserve your lanes!
Shoot Some Pool
Do the people in your office enjoy billiards? If so, you won't have any trouble getting in a game or two. We have pool tables scattered throughout our facility, accommodating both competitive and recreational players. Regardless of skill level, your co-workers and employees will stay entertained.
Play the Slots
Maybe your group wants to partake in some low-stakes gambling? If so, and if they're over the age of 21, they can play our electronic slots. Located within our facility, our slots could earn you some quick cash.
Dance the Night Away
Hoping to get everybody moving around a bit? If you're looking to dance, you won't have any trouble doing so at Hillside Bowl. We've got the music blasting and the lights shining at all hours of our operation, creating the ideal atmosphere for singing, dancing, and other fun activities.
Bring Your Cicero Office to Hillside Bowl!
Interested in coming to Hillside Bowl with some of your co-workers or employees? If so, we would be glad to have you.
We're open from 9:00 AM to 12:00 AM on Sundays through Thursdays and from 9:00 AM to 1:00 AM on Fridays and Saturdays. Our facility is located at 4545 Harrison Road, Hillside, Illinois 60162.
Contact us today with any questions!