06 Feb

Throw Your Maywood Childs Birthday Party at Hillside Bowl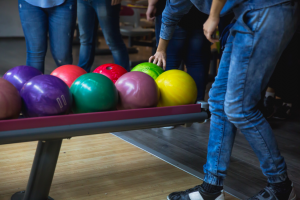 Does your child have a birthday coming up? If so, he or she is undoubtedly excited about the occasion. As such, you'll probably want to celebrate by doing something special.
The question is: how should you celebrate your child's birthday? While you have a number of options available to you, we would suggest having a bowling party at Hillside Bowl.
We have a number of activities for kids to enjoy, plus a selection of party packages to simplify the process and help ease the load financially. Learn more by reading below!
Tons of Fun to Be Had
Here at Hillside Bowl, we have a variety of activities for kids to participate in. At our facility, you can:
Enjoy Some Bowling
With our 36 bowling lanes, each of which is equipped with bumpers and automatic scoring computers, we welcome bowlers of all experience levels. Whether the kids at your child's party are seasoned bowlers or have never rolled a bowling ball before, they're sure to have a great time.
Play Some Pool
If your child and his friends are tall enough to reach the table, they might be interested in playing some pool. We have billiards tables setup inside our facility, allowing for both competitive and recreational games. Whether the kids are serious about pool or are just looking to hit the ball around, they will be accommodated.
Get Up and Dance
Our facility is equipped with top-tier sound and light systems. Working together, they create an atmosphere that facilitates singing, dancing, and flat-out good times. As such, if the kids at your party want to get up and move, they won't have any trouble doing so.
Make the Process Simple with a Party Package
Looking to make the planning process as simple as possible? If so, you should consider buying a party package. We offer two party packages, which include the following.
Spectacular Spare
Our most affordable party package is the Spectacular Spare. Available for $16.95 per kid, it includes 2 hours of bowling.
This package includes a meal as well, with three options available. These include chicken tenders with fries, a hot dog with fries, or two slices of pizza. Your party will also be served pitchers of soft drinks.
Extra items include a balloon bouquet, paper invitations, and paper thank you cards. One thing to note is that, with the Spectacular Spare package, your party must include a minimum of 10 participants.
Smashing Strike
Our other package is the Smashing Strike. This package costs $19.95 per kid and, like the Spectacular Spare package, it includes 2 hours of bowling.
This package offers the same food selections as the Spectacular Spare. Soft drink pitchers and a birthday cake will be provided as well.
Some of the other items you'll receive are paper thank you cards, paper invitations, a balloon bouquet, bowling coupons for each party guest, a goodie bag for each party guest, and a bowling pin for the birthday kid. Note, in order to buy this package, your party must contain a minimum of 10 guests.
Schedule Your Party Today!
Is a bowling birthday party right for your child? If so, and if you're looking to make it official, we'd love to get it down in writing for you.
Our facility is open from 9:00 AM to 12:00 AM on Sundays through Thursdays and from 9:00 AM to 1:00 AM on Fridays and Saturdays. You can find us at 4545 Harrison Road, Hillside, Illinois 60162.
Contact us now to get the ball rolling!