06 Aug

Spend Your College Football Saturdays Watching Games at Hillside Bowl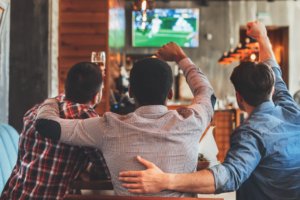 Are you getting excited for the upcoming college football season? Looking for a great place to catch the games all season long? If so, and if you're in the Hillside, Illinois area, Hillside Bowl is the place to be.
In addition to an array of HD televisions, we also offer a range of fun activities to partake in. Sporting a fun and lively atmosphere, we do everything we can to make a big event out of gameday.
Wondering what all we have to offer? Read below for more information!
Find Everything You Need in Our Lounge
There's a lot involved in watching a football game. It's not just about sitting in front of a TV. There has to be food and drink involved as well. This is why our lounge is the perfect place to catch a game. It has plenty of both.
Drink Specials
Whether you're watching games on a Saturday, a Thursday, or otherwise, you will have drink specials available to you. We have specials not only on domestic beers, but imported beers, craft beers, and liquor drinks as well. Regardless of your drink preferences, you'll be able to enjoy affordable drink throughout the game.
Ample Food
Our delicious food is made by our in-house restaurant, Uncle Remus. Regardless of whether you want an appetizer, a side, an entree, or a dessert, Uncle Remus can accommodate you, ensuring that you're never hungry throughout the duration of your game.
TVs Galore
Whether you're looking to catch a single game or a variety of different games, our lounge will have you covered. With HDTVs mounted all over our walls, we air a number of football games throughout each gameday. All you have to do is sit back, relax, and enjoy.
Enjoy Our Lively Atmosphere
Football is not exactly a calm or quiet sport. As such, many people prefer to watch games in a lively atmosphere, much like the one you'll find throughout our facility. Stop by and see what we have to offer!
Partake in Other Activities While You Watch
While you certainly have the option to sit down and focus on the game, you might be interested in participating in a range of other activities as well. Participating in another activity can help to enhance the overall gameday experience, limiting your downtime. The activities you'll have at your disposal include the following.
Bowling
What better way to combat the downtime during a football game than to bowl a few rounds? Watching a down, rolling a frame, and watching another down is a great way to keep yourself occupied throughout the duration of college gameday.
Video Gaming
If you're not quite into bowling, you might consider indulging in some video gaming in our lounge. We have video games situated throughout our lounge, allowing you to participate during commercial breaks and between quarters. Regardless of your tastes, we should have something that you will enjoy.
Pool
Another option is to start up a game of billiards. With billiards table located throughout our facility, it isn't hard to watch a football game and shoot some pool simultaneously. Come in as soon as you can to claim a table!
Drop by Any Time
Are you interested in watching the big game at Hillside Bowl in Hillside, Illinois? If so, we would be more than happy to have you.
Located at 4545 Harrison Road, Hillside, Illinois 60162, we are open from 9:00 AM to 12:00 AM Mondays through Thursdays, and from 9:00 AM to 1:00 AM on Fridays and Saturdays.
Contact us today with any questions you might have!