06 Dec

Bring Your Cicero Family to Hillside Bowl for a Day or Night Filled with Family Fun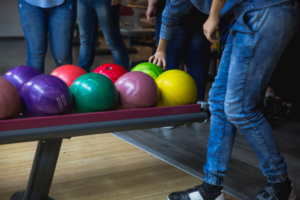 Trying to get your Cicero family out of the house for a while? Hoping to have a little get-together with your kids or grandchildren? Regardless of what the case may be, if you're looking to have some family fun, Hillside Bowl is the place to do so.
The premier bowling center in Hillside, Illinois, we offer a number of activities for our visitors to enjoy. Read below to see what we have to offer!
Hang Out in Our Lounge
If you're looking to keep things low-key, you might consider spending some time in our lounge. Offering great food, drinks, TVs, and more, it's the perfect place to sit back and relax with your family. In our lounge, you can:
Enjoy a Meal
Feeling hungry? If so, our in-house restaurant, Uncle Remus, has you covered. Uncle Remus serves everything from chicken wings, to gizzards, to french fries, to bread rolls, and more. Whether you're in need of an appetizer, entree, dessert, or otherwise, your family will be accommodated.
Order Some of Our Drink Specials
Maybe you're looking to have a drink with your sisters, brothers, or adult children? If so, our lounge bar is just the place to be. Serving everything from domestic beer, to imported beer, to craft beer, to liquor drinks, we offer drink specials each and every day of the week. In other words, regardless of your tastes, you can enjoy affordable drinks at Hillside Bowl.
Stopping in to our bar on a Friday or Saturday? A live DJ will be playing music all night long.
Watch Our Array of HDTVs
Hoping to catch a football game? Maybe you want to watch a holiday special? Whatever it is that you're looking to watch, you'll be able to watch it in our lounge. With an array of HDTVs, we show movies, television shows, and sporting events on a regular basis.
Make an Experience Out of It
Looking to heighten your experience? If so, Hillside Bowl has you covered. Our facility offers a wide variety of activities. In our facility, you can:
Bowl a Few Frames
As Cicero areas premier bowling facility, we accommodate bowlers of all experience levels. It doesn't matter whether you've never rolled a ball before or are a competitive bowler—you and your family are welcome at our facility!
Each of our top-notch bowling lanes is equipped with bumpers and automatic scoring computers, allowing you to have all of the fun with none of the fuss. Whether you're in it for competition or recreation, you're bound to have a great time.
Play Some Billiards
Is your family not into bowling? Maybe billiards is more up your alley? If so, you'll be in luck. We have billiards tables scattered throughout our facility, allowing for both competitive and recreational games. Stop in and play today!
Enjoy Some Video Gaming
If your family meets the legal age requirement (21 or older), you might consider participating in some low-stakes gambling. We have several video gaming machines located in our facility, allowing you and yours to win a few extra bucks.
Dance
Maybe your family would just like to let loose and dance? In our facility, it's easy to do so. We have music playing and lights flashing at all hours of the day, making for a fun and fulfilling dancing experience.
The Cicero Areas Premier Venue for Family Fun!
Are you interested in bringing your family to our Cicero area venue? If so, our team would love to have you. Whether you're looking to have family fun in our laid-back lounge or a fun and exciting experience throughout the rest of our facility, we can accommodate you.
Our facility is open from 9:00 AM to 12:00 AM on Sundays through Thursdays and from 9:00 AM to 1:00 AM on Fridays and Saturdays. We're located at 4545 Harrison Road, Hillside, Illinois 60162.
Contact us today with any questions!