06 Jun

Have a Fun Broadview Holiday Party at Hillside Bowl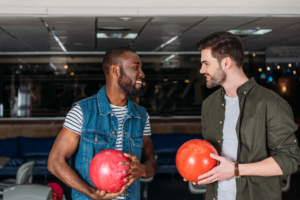 Looking for a fun way to celebrate Father's Day? Maybe you're hoping to get your friends and family together for a Memorial Day celebration? If so, and if you're in the Broadview, Illinois area, you should stop by Hillside Bowl.
Our facility accommodates holiday parties of all kinds, from Memorial Day parties, to Christmas parties, to New Year's parties, and more. Regardless of the holiday you're looking to celebrate, we have you covered. Read below to learn more about our facility!
Participate in a Range of Activities
Hillside Bowl has a range of activities for our guests to participate in. When partying at our facility, you will be able to:
Bowl a Few Frames
Seeing as we're a bowling alley, we make bowling our top priority. Equipped with 36 bowling lanes, we can accommodate parties of all sizes.
Each of our Brunswick synthetic lanes is equipped with bumpers and automatic scoring computers, making the game easy for bowlers of all experience levels. Whether you're looking to bowl competitively or recreationally, you're sure to have a great time.
Enjoy Some Video Gaming
When you're not bowling, you might consider some video gaming. We have video games scattered throughout our facility.
Shoot Pool
Like all top-notch bowling alleys, we have an array of pool tables lined up throughout our facility. Whether you're new to the game or have been playing for years, you and your party will have plenty of opportunity to demonstrate your skills.
Relax in Our Lounge
Looking for a more laid-back afternoon? Hoping to just congregate with a group of your friends? If so, our lounge is probably more your speed. While relaxing in our lounge, you can:
Eat Some Food
It's kind of hard to have a party without food. Fortunately, our lounge has you covered in that regard. Our in-lounge restaurant, S&J Grill, offers a wide variety of foods, including everything from hamburgers, to pizza, to salad, to deserts, and more. Regardless of you and your party's preferences, we're sure to have something you'll enjoy.
Hit the Bar
Looking to have a few beers? Maybe liquor is more up your alley? Regardless of your alcohol preferences, our bar should suit you well. We have drink specials each and every day of the week, allowing you and your party to drink inexpensively!
Watch Some TV
Trying to catch a game? Looking to watch the Macy's Day Parade? We've got TVs going at all times, allowing you to watch whatever it is that you'd like to watch.
Soak in Our Facility's Fun Atmosphere
If it's a party atmosphere you seek, we at Hillside Bowl will have no problem providing it to you. We strive to create as fun and as exciting an atmosphere as possible, utilizing music and lighting to do so.
Our facility is equipped with a state-of-the-art sound system as well as a top-notch lighting system, allowing us to blast popular music and illuminate intriguing light effects during all hours of operation. If you're looking to dance or sing, you won't have much trouble doing so.
Schedule Your Broadview Party Venue Today!
Interested in making your Broadview party location official? If so, we'd be more than happy to get it down in writing. Looking for something a little more casual? Stop by any time during our business hours.
Our facility is located at 4545 Harrison, Hillside, Illinois 60162, and is open from 9:00 AM to 12:00 AM Mondays through Thursdays, and from 9:00 AM to 1:00 AM on Fridays and Saturdays.
Have any questions for us? Contact us now!