06 Oct

Have Your Holiday Party at Hillside Bowl in Hillside, IL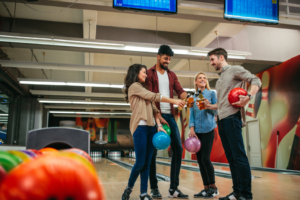 Looking to get your co-workers, friends or family together for Thanksgiving, Christmas, or New Year's? Need a fun place to congregate? If so, you should consider Hillside Bowl in Hillside, Illinois.
Our facility is perfectly suited for holiday parties, offering a wide variety of activities for both kids and adults to partake in. Curious as to what you can do at our facility? Read below to find out!
Relax in Our Lounge
If you're looking for a laid-back time, you might consider spending some time in our lounge. Offering food, drinks, and television, it's a terrific place to congregate with friends and family during the holidays.
Have a Meal
Whether you're looking to have a quick snack or enjoy a full meal, our in-house restaurant, Uncle Remus, will serve you well. Providing a wide variety of foods to choose from, it has something for everyone. Serving everything from chicken tenders, to hamburgers, to salad, to french fries, Uncle Remus has you covered.
Drink Up
Hoping to indulge in some adult beverages? If so, you can take advantage of our lounge bar. Offering domestic beer, imported beer, craft beer, and liquor, it has everything needed to accommodate your tastes.
Trying to enjoy some drinks without your group running up a massive bar tab? That won't be a problem. We offer drink specials each and every day of the week.
Keep Things Lively with Some Fun Activities
Hoping to inject some excitement into your party? At Hillside Bowl, that won't be an issue. We have a variety of activities for our guests to partake in, including the following.
Roll a Few Frames
Here at Hillside Bowl, we have 36 bowling lanes, each of which is equipped with automatic scoring machines and adjustable bumpers. Regardless of your party's experience level, you're sure to have a great time. Want to guarantee yourself a spot? Reserve a lane by calling now!
Enjoy Some Video Gaming
If your party isn't interested in bowling, you might instead consider video gaming. We have video games scattered throughout our facility, including video slot machines for all the gamblers out there. Regardless of your party's preferences, you should have a terrific time.
Play Some Pool
Maybe you're more into pool as opposed to bowling? If so, you're in luck. We have billiards tables situated in our facility, allowing both competitive and recreational players to get in a game or two.
Bask in the Lively Atmosphere
Hillside Bowl is in the business of fun. We understand that the point of our business's existence is to provide a good time to our customers. As such, we go above and beyond in creating a lively atmosphere.
Not only do we sport a top-tier lighting system, but a top-of-the-line sound system as well. Pumping out popular music all day and night, we provide a solid foundation for your group to sing, dance, and enjoy the vibes.
Reserve Our Party Room
If you have a particularly big party, or if you're hoping for a more formal get-together, you could rent out our party room. Designed to accommodate large groups of people, it's available by reservation. Reserve it by contacting us today!
Schedule Your Holiday Party Today!
Ready to officially schedule your get-together? If so, the staff at Hillside Bowl would be more than happy to get everything down in writing. Whether you're looking to bowl a few frames, eat a meal, or congregate in our banquet room, we can accommodate you.
We're located at 4545 Harrison Road, Hillside, Illinois 60162, and are open from 9:00 AM to 12:00 AM on Mondays through Thursdays, and from 9:00 AM to 1:00 AM on Fridays and Saturdays.
Any questions? Contact us today!