06 Jul

Have Your Stone Park Kid's Birthday Party at Hillside Bowl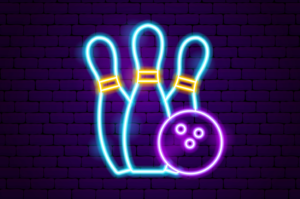 Is your son or daughter's birthday coming up? Looking for a big way to celebrate? If so, you should have a party at Hillside Bowl in Hillside, Illinois.
Offering a variety of fun activities, our facility is practically designed to cater to kids' birthday parties. Learn more about Hillside Bowl birthday parties by reading below!
Have Some Fun Bowling
Hillside Bowl is equipped with 36 bowling lanes, each of which is bumper-capable. As such, our lanes make bowling easy for both beginners and experienced individuals. Regardless of the size and talent-level of your party, we'd love to accommodate you.
You don't have to worry about keeping score. Our automatic scoring computers do that for you. You can just reserve your lanes, show up, and start bowling.
The Adults can take Part in Some Gaming
Does your party prefer to do something other than bowling? If so, you might consider taking part in some gaming instead. We have games scattered throughout our facility, providing ample joy for video gamers of all ages.
Eat Some Delicious Food
A birthday party isn't much of a birthday party without food. Fortunately, here at Hillside Bowl, we offer a wide variety of food for our guests to choose from. Our in-house restaurant, Rickettes Restaurant, serves everything from hamburgers, to chicken tenders, to salad and more. Regardless of your party's taste preferences, we will have something for you all to enjoy.
Take in the Exciting Atmosphere
We here at Hillside Bowl know that our guests come here hoping to have a good time. For this reason, we do everything we can to create an exciting atmosphere. Not only do we play music all day long, but we also display a top-of-the-line light show.
Whether the members of your party are looking to dance, sing, or just enjoy a pleasant environment, we'll have you covered.
Buy a Party Package
While you have the option to bring your group in on short notice, many parties opt to make their event a little more formal. In most cases, this is done with the purchase of a party package. Here at Hillside Bowl, we have two party packages to choose from: The Spectacular Spare package and the Smashing Strike package. We'll discuss the details of both below.
Spectacular Spare
The Spectacular Spare is available for $16.95 per person. This package provides two hours of bowling, shoes, a party table, food for every kid at the party, drinks for every kid at the party, invitation cards, and a balloon bouquet. To buy this package, you must have a minimum of 10 kids in your group.
Smashing Strike
The Smashing Strike package is an upgrade from the Spectacular Spare package, providing all of the perks that the Spectacular Spare provides, plus a birthday cake, bowling coupons for all of the kids at the party, a goodie bag for all of the kids at the party, and a bowling pin for the birthday kid to take home. To buy this package, your party must have a minimum of 10 kids as well.
Make Your Stone Park Children's Birthday Party Official by Calling Us Now!
Are you interested in having your child's birthday party at Hillside Bowl? If so, we would love to have you. Whether you're interested in purchasing a party package or are just hoping to have a laid-back get-together, we can accommodate you.
Our facility is located at 4545 Harrison Street, Hillside, Illinois 60162, and is open from 9:00 AM to 12:00 AM Mondays through Thursdays, and from 9:00 AM to 1:00 AM on Fridays and Saturdays.
Have any questions? Contact us today!