06 Sep

Catch a Monday Night Football Game at Hillside Bowl in Hillside, IL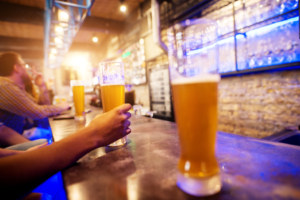 Do you have any plans on Monday night? Looking for a great place to watch Monday Night Football? If you live in or around Hillside, Illinois, you might consider Hillside Bowl, the area's premier bowling alley and entertainment center.
Characterized by an exciting environment and lined with an endless series of HDTVs, our facility is perfectly equipped to host Monday Night Football. Find out what else we have to offer by reading below!
Relax in Our Lounge
Football alone is a beautiful thing. However, you can't have a proper viewing experience without food and drinks. That's where our lounge comes in. Home to a top-notch restaurant, as well as a fully stocked bar, it has everything needed to ensure a good time.
Eat to Your Heart's Content
Hoping to get a bite to eat during the game? Our in-house restaurant, Uncle Remus, has all of the food you could ever need. Whether you're looking to enjoy a full meal or are just looking for a light snack, you will be accommodated.
Drink Up
Like to get a little tipsy during games? If so, our bar will accommodate you. Whether you are into domestic beer, craft beer, imported beer, or liquor, there will be drink specials available for you to take advantage of for the duration of your visit.
An Array of Televisions
Skeptical as to whether you'll be able to get a good view of the game? Don't worry! Our lounge is lined with an array of flat screen televisions, ensuring that every person who wants to watch gets a clear, unfettered view. You won't have to worry about straining your neck, or having to stand up in order to see the game.
Take Part in Some Additional Activities
What if you're wanting to watch the game, but aren't wanting to sit down and focus on it intently? Are there other activities you can take part in while the game plays in the background? Yes! Our facility has all types of activities for our visitors to partake in, including the following.
Bowling
Considering that we are a bowling alley, it should come as no surprise that visitors can bowl in our facility. Sporting 36 bowling lanes, all of which are equipped with optional bumpers and automatic scoring computers, we can accommodate both seasoned and novice bowlers. Therefore, if you're looking to roll a few frames in between plays, we'll have you covered.
Hoping to guarantee yourself a spot on Monday nights? Reserve a lane by contacting us now!
Video Gaming
Maybe you're looking for something to do during halftime? If so, you might consider playing a few video games. We have video gaming in our lounge, including electronic slot machines for the risk-takers among us. Come check out our selection now!
Billiards
If bowling and gaming aren't on your radar, you might be interested in billiards instead. Our facility has quite a few pool tables available for use by our visitors, accommodating both recreational and competitive players alike. While you play, you can watch a down of the football game, take your shot, and watch another down. You won't miss a beat.
Come Catch the Game at Hillside Bowl
When it comes to Monday Night Football, Hillside Bowl is the place to be. Whether you're looking to bowl while you watch or just sit back and enjoy the game, you're sure to have a great time.
Our facility is located at 4545 Harrison Street, Hillside, Illinois 60162, and is open from 9:00 AM to 12:00 AM on Mondays.
Any questions? Contact us today!