06 Mar

Looking for a Company Team Building Venue? Try Hillside Bowl Outside of Cicero, Illinois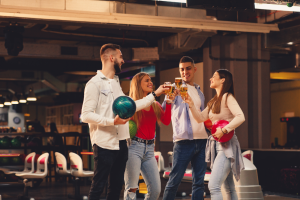 When it comes to managing a successful company, team morale is of utmost importance. For this reason, it's beneficial to hold team building events from time to time.
Looking for a solid venue where you could hold a team building event? If so, and if you're in the Cicero, Illinois area, you should come to Hillside Bowl.
Our facility is loaded with fun activities. Regardless of your preferences, you're sure to have a great time. Interested in learning more about our facility? Read on for more information!
Relax in the Lounge
Hoping to kick your feet up and blow off some steam? If so, there's no better place to be than in our lounge. Offering TV, food, and alcoholic beverages, it's a great place for your team to sit back and enjoy each other's company.
Catch Some TV
Whether your team is looking to watch a sporting event, a TV show, the news, or otherwise, you'll be able to do it in our lounge. Lined with an array of HDTVs, we have different television programs showing at all hours of the day.
Enjoy a Meal Together
Wanting to grab a snack? Hoping to have a full meal? Our lounge restaurant, Uncle Remus, has you covered. You can order a variety of classic food items, including chicken wings, french fries, and bread rolls.
Have a Few Drinks
Maybe your team isn't interested in a meal? Perhaps you're looking to enjoy a few adult beverages? If so, our lounge bar will serve you well. With drink specials available each and every day of the week, we serve everything from domestic beer, to imported beer, to liquor drinks, and more. Regardless of your preferences, we'll have something for you to enjoy!
Amp Up the Activity
Hoping for an exciting experience? If so, we have a number of activities that your group can participate in. At our facility, you can:
Bowl
Looking to roll a frame or two? You'll have no problem doing so at our facility. We have 36 bowling lanes for our guests to utilize, each of which is equipped with bumpers and automatic scoring computers.
Whether your employees/coworkers are competitive bowlers or have never played a game before, you will be welcomed with open arms.
Play Billiards
If you're not into bowling, perhaps you might be interested in playing a few games of billiards? You're in luck, because we have pool tables located in our facility. Whether your team is serious about pool or is just looking have a few laughs, you will be accommodated.
Indulge in Some Gaming
Your team could also give our electronic slots a spin. Available to those ages 21 and older, they're a great form of low-stakes gambling fun.
Dance
Hoping to move around a bit? Want to dance and sing with your colleagues? Here at Hillside Bowl, you won't have any trouble doing so. Our facility has the music and lights going at all hours of the day, creating an exciting and inviting atmosphere for our guests. Stop in and dance today!
Plan Your Cicero Team Building Event at Hillside Bowl Today!
Are you ready for some team building fun with your Cicero area workmates? If so, Hillside Bowl is the place to be.
Our facility is open from 9:00 AM to 12:00 AM on Sundays through Thursdays and from 9:00 AM to 1:00 AM on Fridays and Saturdays. You can find us at 4545 Harrison Road, Hillside, Illinois 60162.
Feel free to contact us today with any questions you might have!