06 Oct

Host Your Company Outing at Hillside Bowl: The Best Party Venue in the Elmhurst, Illinois Area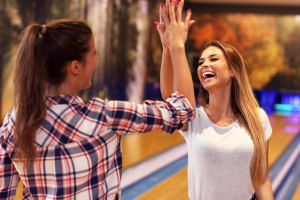 Looking to hold a banquet for your business? Maybe you're hoping to treat your employees to a fun night out? If so, you should consider hosting your company outing at Hillside Bowl — the best party venue in the Elmhurst, Illinois area.
Hillside Bowl has a lot to offer in terms of amenities and activities. It's an ideal location to host either a formal function or a casual get-together. Read below to learn what we have to offer.
Keep It Low-Key in Our Lounge
Are you looking to have some low-key fun with your employees? If so, our lounge will serve you well. It has several features, which include the following:
A Bar
Looking for a party venue in the Elmhurst, Illinois area that has a bar? If so, Hillside Bowl can accommodate you. Our lounge bar features everything from imported beer to domestic beer to craft beer to liquor and more, it's sure to have something that you and your employees can enjoy.
A Restaurant
Maybe you're looking to grab a meal? You can do so at our in-lounge restaurant, Uncle Remus. This restaurant serves a variety of delicious food and appetizers. Whether you're in the mood for a full meal, a snack, or something in between, you'll be covered.
TVs
Our lounge is also filled with several HDTVs. As such, you and your employees can gather around and watch the game, a movie, or anything you desire.
Activities to Enjoy
Are you hoping to partake in some fun activities with your group? As the premier party venue in the Elmhurst, Illinois area, Hillside Bowl won't let you down. We have a variety of activities that can keep your group entertained for hours. These include the following:
Bowling
Bowling is our specialty. Whether it's competitive bowling, recreational bowling, or something in between, you can always bowl a few frames at Hillside Bowl. Stocked with tons of bowling lanes, all of which have automatic scoring computers and bumper capabilities for those who are eight years or younger, we can accommodate bowlers of all experience levels. Roll a few frames, have some food, and enjoy the experience. It's a great way to bring the company together.
Want to guarantee that you can bowl on the day of your event? Call ahead to reserve your lanes.
Pool
Are you more interested in playing pool than bowling? If so, you won't have to look far. We have pool tables located inside our billiards room. Whether you're playing competitively or recreationally, you're sure to have a great time.
Video Gaming
In addition to bowling and pool, we also offer video gaming. Located inside our lounge, we have a video gaming area for those who are 21 years or older. Stop in and see what we have to offer.
Rent Out Our Banquet Room
If you're looking for an Elmhurst area party venue that can offer a more formal experience, Hillside Bowl is the place to be. You can rent out our banquet room, which is closed off from the rest of the facility, so that you and your group can hang out in a more private setting. Complete with chairs and tables, it's perfectly suited for parties, get-togethers, and other celebrations.
Schedule Your Event at the Best Party Venue in the Elmhurst, Illinois Area
Ready to organize your company's get-together? Looking for the top-rated party venue in the Elmhurst, Illinois area? If so, look no further than Hillside Bowl.
We are open from 9:00 AM to 12:00 AM on Sundays through Thursdays, and from 9:00 AM to 1:00 AM on Fridays and Saturdays.
Have any questions for us? Contact us at (708) 449-5350.